Education in 4EU+
Collaboration in education is one of the central objectives of the 4EU+ European University Alliance. It has three essential features: to offer students at a 4EU+ university a genuinely European learning experience; to allow experimenting with, testing and advancing ways of learning and teaching that are innovative and future-oriented; to reflect the specific profile of the 4EU+ universities as public, comprehensive and knowledge-centred institutions.
The collaboration will be marked by a shared approach to higher education that 4EU+ will develop. For now, its main features are:
challenge-based, addressing key challenges and problems that our societies are facing, often in an interdisciplinary way, and engaging with the public;

student-centred, allowing and encouraging students to develop a personalised learning pathway, following their curiosity and questions and engaging in active learning;

knowledge-centred, understanding learning as research and asking academics to integrate their research to their teaching;

competence-oriented, cultivating a set of competences and skills that each 4EU+ student should be able to demonstrate
4EU+ will develop this approach and put in into practice by inviting collaborative projects from the community of academics at each 4EU+ university. The projects can vary in form: from workshops and other short-term intensive learning experiences to joint courses and modules to core curricula and joint study programmes. All of them should have in common to be daring and innovative.
Conditions
All projects have to involve at least three 4EU+ member universities and fall under one of the four 4EU+ Flagships.
Form for 4EU+ educational proposals
The first submission date for educational projects is 15 June 2020 for proposals in Flagship 2 and 1 July 2020 for proposals in Flagship 1, 3 and 4.
Please note that all your planned project activities will need to produce results and report costs by October 2022 at the latest. We recommend that your projects be ideally closed in May or June 2022. Of course, it is possible to count on shorter than this maximum time.
Please bear in mind that the projects should develop students' skills, competencies and values defined by the 4EU+ Alliance as a cornerstone of a 4EU+ graduate profile: open-minded, multilingual, exposed to multiculturalism and plurality of views, entrepreneurial, critical thinker, data literate and socially engaged, see more.
More details will be provided soon.
Evaluation process
The proposals will be processed in the following way:
Proposals are handed in digitally to the local 4EU+ office (see list below) of the university of the assigned project leader

Proposals are evaluated by the responsible Flagship Programme Committee and then approved/rejected by an expert group on education and the 4EU+ Secretary General

The local 4EU+ officers will inform the applicants about the outcome, alongside with further information on the development of the project in practical terms (also finances).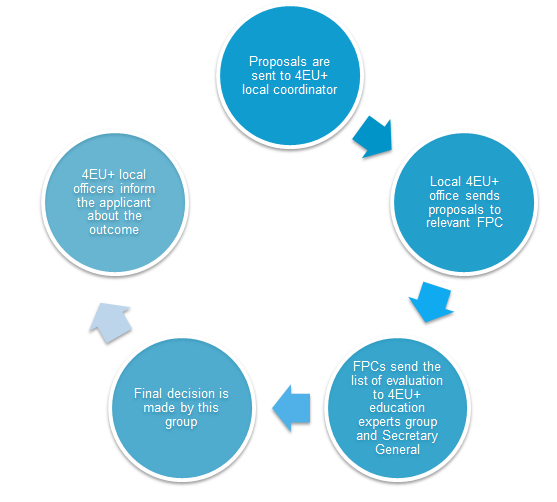 Flagships meetings and other opportunities for applicants
Flagship 1
Please be informed that Flagship 1 coordination committee organizes an online workshop on 10 June 2020. All applicants interested in submitting a proposal under Flagship 1 are invited to participate in the workshop (find out more).
Contacts
4EU+ is looking forward to your proposals. If you have any questions or are already thinking about handing in a proposal, please contact your local 4EU+ office. They will be happy to assist you:
| | |
| --- | --- |
| Charles University: | |
| Heidelberg University: | |
| Sorbonne University: | + |
| University of Copenhagen: | |
| University of Milan: | |
| University of Warsaw: | + |
If you need advice on the educational aspect of your proposal, you can also contact respective experts at your university:
| | |
| --- | --- |
| Charles University: | |
| Heidelberg University: | |
| Sorbonne University: | |
| University of Copenhagen: | |
| University of Milan: | |
| University of Warsaw: | + |