On 8 June 2022, the 4EU+ Alliances hosted the 4EU+ On-line Conference on Educational and Research infrastructure collaboration in European University Alliances.
Conference co-chairs Sabine Bottin-Rousseau (4EU+, Sorbonne University) and Bo Jellesmark Thorsen (4EU+, University of Copenhagen) summarize key takeaways and questions for continued debate:
Educational infrastructure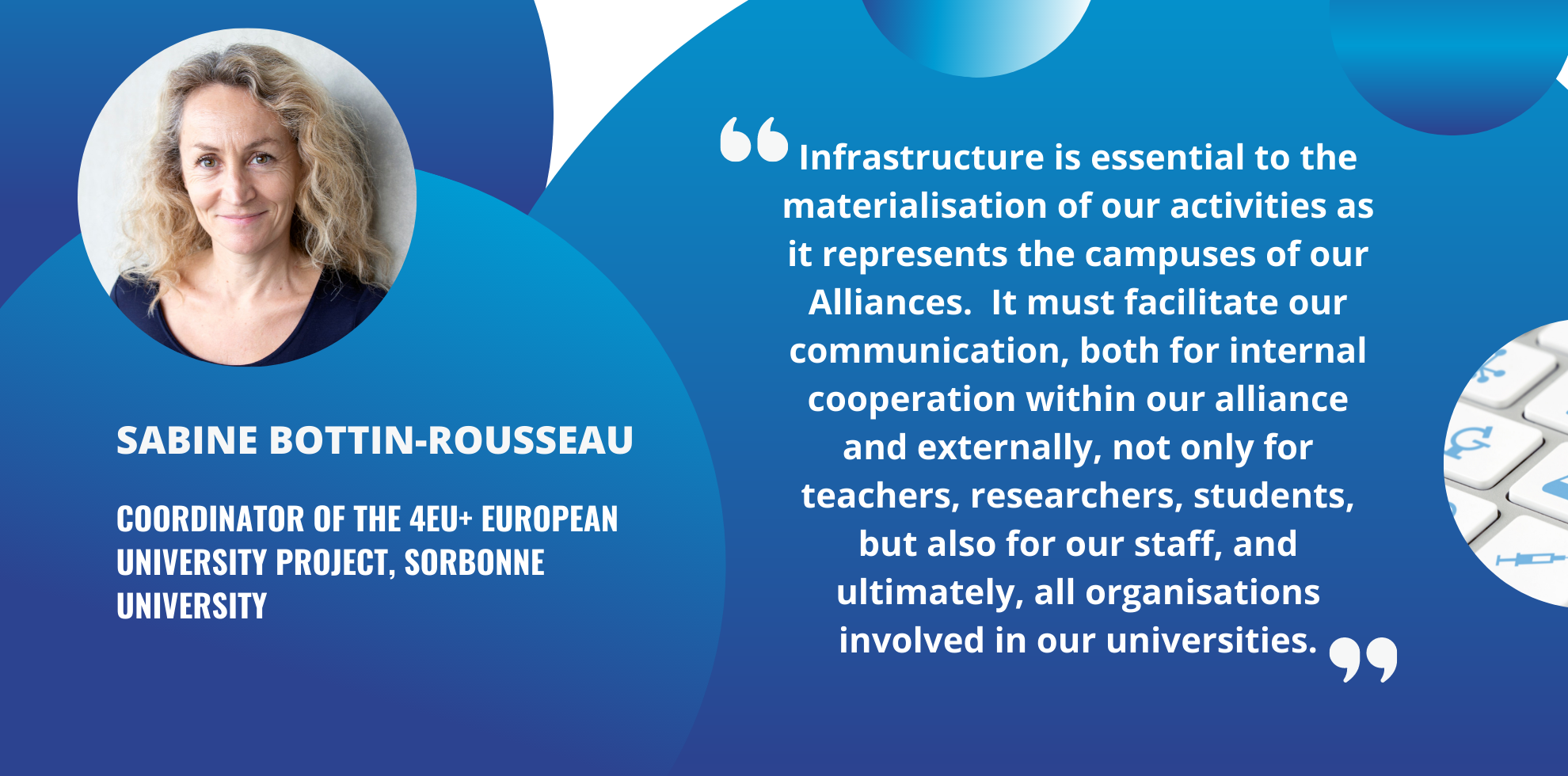 Key messages
Universities and Alliances have many of the same challenges and use cases, but don't have to use the same systems to collaborate.

Collaboration between Alliances to ensure interoperability of systems would be key to achieving interconnectedness.

The integration of new innovative technological pedagogical tools with the use of emerging technologies such as AI in LMSs and the development of quality assessment tools are also underway.

Challenges of creating common infrastructure goes beyond IT systems. The current regulatory barriers also need to be addressed.

Alliances were able to identify a common and strong ambition and will to work with open solutions and standards, and to keep better control over the data.
Key questions
With all these developments in the different alliances, we are at a critical point where we have to cooperate. Are we ready to go beyond sharing and start collaborating?

Legal issue regarding GDPR and safe data exchange during mobilities requires a strong agreement within the universities. Can we find a way to share our students' data within our alliances to facilitate all processes?

Will the next phase allow us to think about virtual academic development and the possibility of providing training tools for students and teachers to address the issue of digital transition and inclusiveness when offering blended and hybrid learning?
Research infrastructure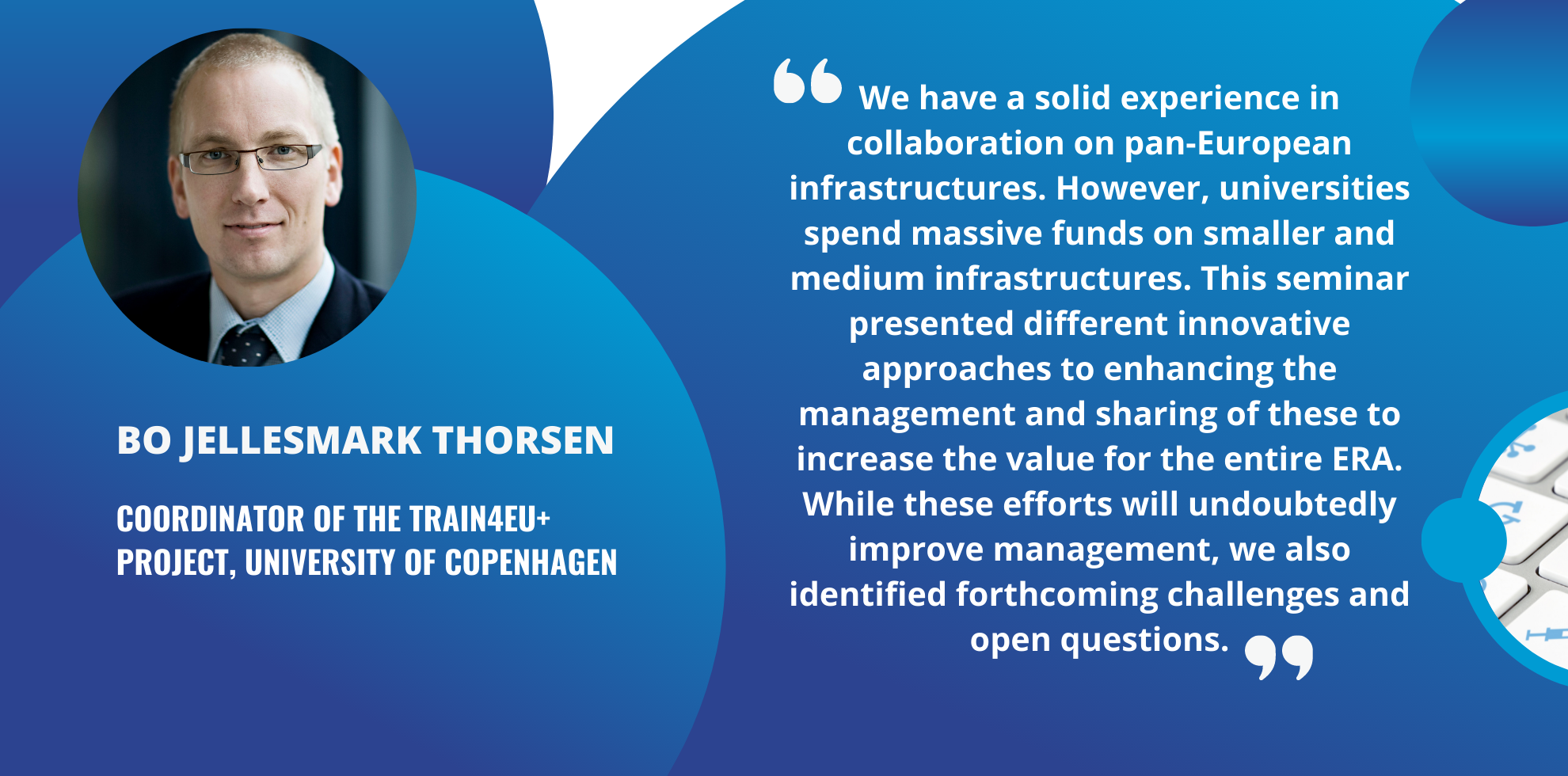 Key messages
When addressing research infrastructure management, we stand on a firm fundament of past work in particular on large and very large – sometimes unique - infrastructures, where nations and universities collaborate across borders.

However, universities spend massive amounts of funds on smaller and medium infra-structures and in this seminar, different alliances presented different innovative approaches to enhancing the management and sharing of these to increase the value for the entire ERA.

The definition of research infrastructure should be inclusive: infrastructure is more than core facilities and technical tools. It's also social sciences, humanities and interdisciplinary facilities.

We need to open infrastructure and give access to citizens and businesses so we can share knowledge in new collaborative ways.
Key questions
As universities seek to engage actively with innovation efforts and the private sector, we need to ask ourselves if further innovations in how we manage and share research infrastructures will be called for?

We may also ask ourselves if we can design systems for sharing and managing infrastructure sufficiently transparent for them to actually further and ease the interaction between university research groups and private sector actors?

The fundamentals of Open Science will require us to develop better infrastructure for data storage, management and access, and we need to ask ourselves if we pay enough attention to these?