Why Europeanness?
Europeanness is an umbrella theme for one of the four key programmes of 4EU+ Alliance, Flagship 2: "Europe in a changing world: Understanding and engaging societies, economies, cultures and languages". Within Flagship 2, scholars aim at providing a comprehensive understanding of the concept of Europeanness and exploring the multitude of factors that contribute to European self-identification, different facets of living in Europe and being European, as well as governance and regulatory aspects of Europeanness.
Through the contest, we wanted to explore the topic of Europeanness through the lens of experiences of 4EU+ students and doctoral candidates and ask them: What does Europeanness actually mean to you as a student/doctoral candidate of a European university? What is your very own definition of being European? Is Europeanness really something Europeans have in common?
The contest
Organised on Instagram, the contest was open to all students and doctoral candidates from 4EU+ member universities: Charles University, Heidelberg University, Sorbonne University, University of Copenhagen, University of Milan, and University of Warsaw. See the contest rules.
The submitted works were first assessed by a jury composed of five 4EU+ representatives: representative of the 4EU+ Management Committee, Coordinator of Flagship 2 Programme Committee, two representatives of 4EU+ Student Committee, and a representative of the 4EU+ Communications Working Group.
The following criteria were taken into consideration:
Adherence to the contest's theme

Uniqueness of concept and creative approach to the theme

Overall quality of the picture

Clarity of expression in the picture description (caption) and the overall message behind the picture.
In the second stage of the contest, it was up to the online community to decide, via the public voting on Instagram, who among the three finalists selected by the jury would be awarded the first, second or third place in the contest.
Finally, the public made their views clear, awarding:
1st place: Valeria Frigerio, student of the University of Milan
2nd place: Francisco Tenjo Castano, PhD candidate at the University of Copenhagen
3rd place: Aleksandra Matynia, student, Sorbonne University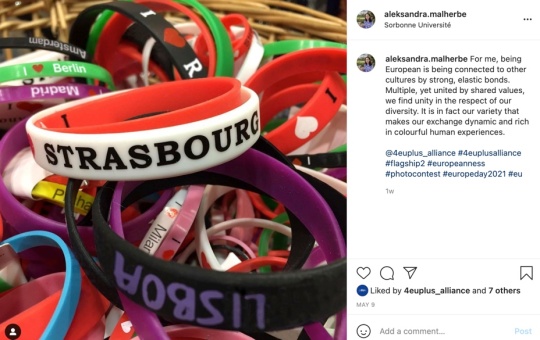 As a contest prize, each of the three finalists could choose to participate in a language course of their choice (Czech, German, French, Italian or Polish) offered by 4EU+ member universities. Valeria has already made up her mind and will follow an online intensive French language course at Sorbonne University in September 2021. We will definitely ask her to share her impressions of the course!
See the pictures of other contestants (in random order)