Summer School of Clinical Acid-Base and Homeostasis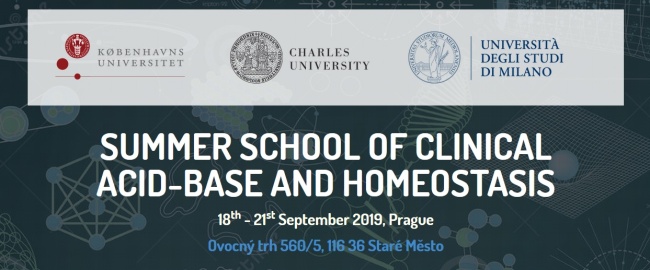 Four-day summer school organized in Prague by the 3rd Medical Faculty of Charles University in cooperation with University of Milan and University of Copenhagen. The projects falls under Flagship 1.
The target audience consists of interested medical students, trainees as well as specialists in intensive care medicine, emergency medicine, anaesthesiology, internal medicine and all other disciplines that use reading blood gases as diagnostic tool. Critical care nurses and paramedics are most welcome, too.
The overarching objective is to help the participants to learn, thoroughly understand and gain confidence in reading and interpreting the blood gas analysis in an acutely sick patient.
Program:
DAY 1: The basics – Physiology of homeostasis
DAY 2: Clinical acid base
DAY 3: Water and osmoles
DAY 4: Geeks day
Registration fee
Candidates - doctors = EUR 127
Candidates - medical students and others = EUR 97